Are you guilty of making promises to yourself to take better care of your hair, nails and skin – and then break them? The reasons for skimping out on beauty care or a beauty makeover are limitless – "I don't have time", "Beauty products are way too expensive", "Nobody cares", "I got other things to worry about anyway." Well, now we've created a 21-day beauty  makeover challenge that would help you step out of your comfort zone and try new beauty products and processes. The key to this beauty makeover challenge is to select 2 or 3 tips to transform your look within your budget and weekly schedule.
21 Days to Your Beauty Makeover and a New You 
Day 1: Ditch the foundation and use a Beauty Balm cream for coverage. While foundation mainly adds a layer of color, BB cream as they are most known, moisturizes, protects, and corrects skin complexion.
Day 2: Make an appointment with a skin care specialist, or dermatologist, to see what's really going on under the surface.  A dermatologist can give you a strong prescription to help you treat acne or diminish wrinkles. They are critical to your outer and inner beauty makeover, and an all-around complete beauty transformation – minus the botox.
Day 3: Buy a new lipstick color that you've never wore before. Here's your opportunity to go red or … orange!
Click here to get a party makeup appointment
---
Day 4: Get an electric blue or white  eyeliner to make your eye pop on your next night out. The key here is to add black eyeliner first and then place the bold-color eyeliner right above it or closer to the inner creases of your eyes.
Day 5: You gain some, you lose some.  Make an appointment for eyebrow threading and eyelash extensions.
Day 6: Use an anti-aging skin product at night so your skin can rejuvenate overnight.
Day 7: Clear gloss is safe and tried and true. Switch it up with a tinted lip gloss or lip stain.
Day 8: Your beauty makeover is nothing without working on beauty inside out. Vitamins such as Biotin and Vitamin E are essential for healthy skin, hair and, nails. If you don't get enough from your foods, and lotions, you have to get them in your body this way.
Day 9: Use a gentle skin cleanser – creamy for dry skin, or oil-free foaming cleanser for oily skin.
Day 10: Put down the false eyelashes and step out with loads of anti-gravity mascara to keep your eyes looking alert. The key here is to elongate and accentuate.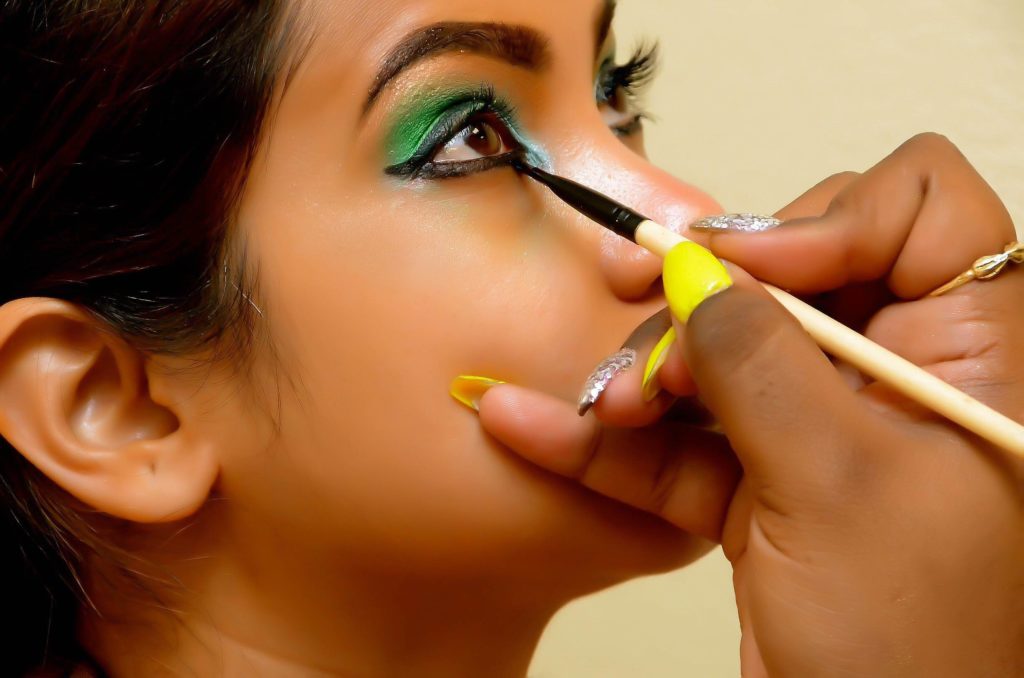 Day 11: Book a makeup appointment with a professional makeup artist. Be sure to ask questions about any facial areas of concern you may have. A makeup artist could be essential in helping you choose beauty products that work for you, way after this beauty makeover challenge is long gone.
Day 12: Wash your face twice daily with a cleanser that has benzoyl peroxide to keep blemishes under control.
Day 13: Steam your face. Yep, we said it. If you can't go to the sauna, bring the sauna to you. Dip a hand towel in boiling water, squeeze out the excess water, allow 30 seconds to cool, then rest it on your face. Your pores will thank you.
Day 14: Hydrated skin looks more youthful so drink plenty of water – and by plenty, we mean 2 more glasses or bottles of water daily.
Day 15: Skip the design wear and get a pair of sunglasses that block 99% of UVA or UVB rays, and at least 75% of visible light.
Day 16: Your lips need sun protection too. Make sure you use a lip product with SPF 30. It's okay to layer lip products, as long as you get ample coverage and protection from the sun. Safety first.
Day 17: Blush! Whether your skin is cocoa brown or olive, a rosy blush would take your beauty look up a notch. Use with caution – too much of it will make you look like a clown, and we don't want that. Simply soft subtle strokes will do.
Day 18: An exfoliator can release extra dirt from within your pores. If you have dry skin, you should do this at least once a week – twice a week if you have oily skin.
Day 19: Pull your hair back. Show off your beauty. Try a new hairstyle that removes the ends of your hair from falling on your forehead or cheeks, to prevent the oils of your hair from irritating your pores. (Here's a secret: An excellent makeup artist give you tips and pointers on how to make your forehead or nose appear smaller or bigger – if you are a bit on the self-conscious side.)
Day 20: Test organic skin products or drugstore products on a less noticeable part of your skin to prevent allergic skin reaction and irritation. You may just like them.
Day 21: Exercise. Exercising can increase the blood flow and flush out dirt from your skin.
Try these few things and you're on your way to a fresh start –creating new beauty habits.
Click here to get a party makeup appointment
---
---
---
---
Kanika Roberts and her team of professional makeup artists, are known as Face Candy Studio – The #1 International Carnival Makeup Company. It has been thriving for over 5 years and has become a major player in the New York Tri-State wedding beauty industry. Face Candy Studio makeup artists have now done over 1,500 makeup applications on carnival masqueraders and brides across 6 major cities. Specializing in bold, glamorous eye makeup and airbrush makeup, Face Candy Studio continues to draw loyal customers, and respect from within the Caribbean community.