29 days 'til Carnival and you're $3,000 in the hole. Between airfare, housing, fete tickets and costume, you can barely stomach putting out more money for a carnival makeup artist. It just can't be that serious', you think to yourself. But then the email for your costume distribution comes through and you find yourself frantically searching online for hot eye makeup ideas. Well, with a little bit of cash and some patience, you can certainly make these eye makeup ideas work for you on Carnival day.
EYEBROWS
Before you even think of trying out new eye makeup ideas, you have to get your eyebrows waxed. If waxing your eyebrows is not your cup of tea, then thread them, or tweeze them. Simply put: Your eyebrows become the focal point when your carnival headpiece is on, so they have to look good. There's no winging it. If your eyebrows are whack and out of shape, you're probably going to spend more time and eye makeup trying to fix them. Do yourself a favor: Arch those eyebrows and you would be on your way to making a statement on the road.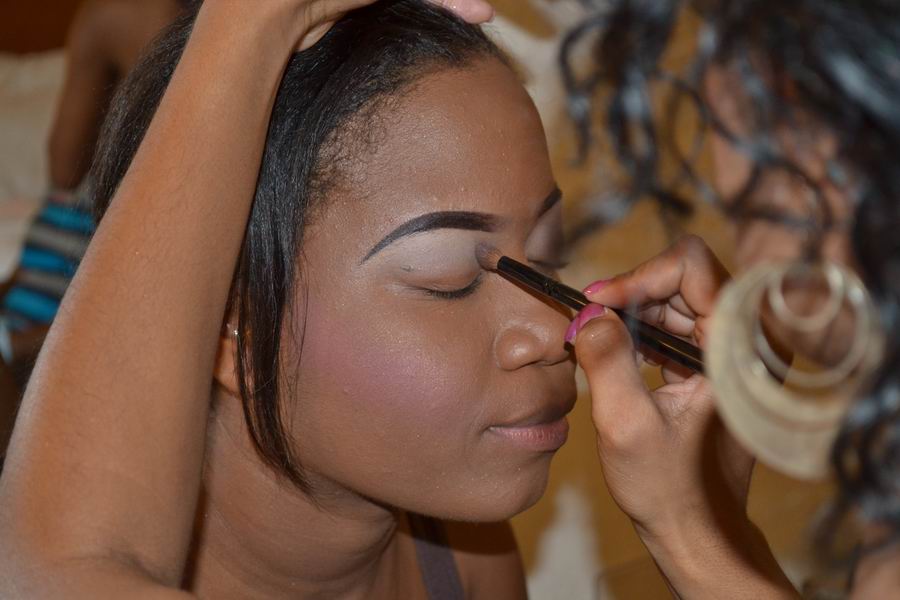 Click here to get a party makeup appointment
---
PRIMER
Yessssss! Eye Primer is the secret to making eye makeup ideas come to life. Not only does it allow eye shadow to appear brighter, especially on brown skin, but it allows eye shadow to rest perfectly on the eyelids for long periods of time. And when you're dancing for 6, 7, and 8 hours straight, you don't want photographers to catch you without your eye makeup on. Quite frankly, there is nothing cute about half-on and half-off eye makeup. Eye primer will fix that problem.
EYE SHADOW
Now, if you don't know how to blend eye shadow, your best bet is to work with only one color. With the exception of black or white, you can pretty much use any color eye shadow that matches your costume. In most cases, the more expensive the eye shadow, the stronger the pigment would be, which then makes it appear brighter on your face. But if you apply eye primer first, you don't have to worry about your less expensive eye shadow looking dull and faded.
Every carnival newbie or makeup beginner can easily apply one color eye shadow all over her eyelid and look good afterwards. This is not to be confused with the base of your eye which goes all the way up towards the eyebrows. If you apply one color eye shadow all the way from your eyelids to your eyebrows, I promise you, you are not going to be happy. Likewise, if you apply glitter eye shadow, pretty as it may be, all over your eye base and lid – you just may look a little crazy. Consider yourself warned.
EYELINER
Now lining the eye is the one time you may need a somewhat steady hand to add more drama to your carnival makeup look. The go-to tool for makeup beginners is a black wax eye pencil because, one, you already know how to hold it, and because, two, it glides on effortlessly. You don't want to press hard on your eyelids as if you're writing an exam. Too many things can go wrong with that. Starting with the corners of your eye and working your way outwards, just place a thin, black line across your lash line. Mess up on this part…. and you'll turn into Dracula.
LIPSTICK
You're probably wondering, 'What the hell does lipstick have to do with eye makeup ideas'. Well, if you are going to bring drama to your eyes with the brightest eye shadow in your makeup bag, then you should neutralize your lips. The key is to select a beige, soft pink, or brown lipstick – a color close to your natural lip shade – so all attention goes directly to your super-bright eye makeup.
Again, these eye makeup ideas are for makeup beginners and carnival newbies. If you don't master the basics first, then a cluster of face gems and glitter would only make you look like a clown. Practice, while you have time. Because the last thing you want, is to be trying out new eye makeup ideas, with your two left hands, in your $500 costume on carnival day.
Click here to get a party makeup appointment
---
---
Kanika Roberts and her team of professional makeup artists, are known as Face Candy Studio – The #1 International Carnival Makeup Company. It has been thriving for over 5 years and has become a major player in the New York Tri-State wedding beauty industry. Face Candy Studio makeup artists have now done over 1,500 makeup applications on carnival masqueraders and brides across 6 major cities. Specializing in bold, glamorous eye makeup and airbrush makeup, Face Candy Studio continues to draw loyal customers, and respect from within the Caribbean community.